Live music returns to Old Town Park on Saturday, October 2, 2021 when JobCarr Cabin Museum will host a Pioneer Craft & Music Fest from 11AM – 3PM.
Pioneer Craft & Music Fest is a "pay as you can" event, offering live music and fun educational activities for children. This is family fun at its best – no electronics required. This year the festival features an expanded offering of live acoustic and folk music and pioneer demonstrations. Also, treats will be available from Ice Cream Social! "We're thrilled to bring the festival back with expanded offerings in a safe outdoor atmosphere. We encourage everyone to bring a picnic blanket, relax in the park and enjoy music from these talented local artists. It's a perfect way to kick off the fall season!" commented Christopher Uebelhor, JobCarr Cabin Museum Executive Director.
Families can choose to complete craft activities at the event or take home the craft instructions and materials. This year's expanded musical offerings will feature an array of different folk, bluegrass, and other acoustic music. Fiddler Sarah Comer will kick off the event, followed by bluegrass group Clover Creek Ramblers. Then a true "family band," Heaven Help Us, will add more bluegrass and traditional tunes. Finally, Dustin Lafferty will close the event with an acoustic set.
Thank you to our amazing sponsors for supporting this community event: Corona Steel Inc; Edward Jones Advisors: Eugene Brown, Micky DuMont, Derek O'Sullivan & Brent Wojtanowicz; Dwyer, Pemberton & Coulson; Neil Walter Company; Connelly Law; Sprague Pest Control; DaVita; Office of the Secretary of State / Washington State Library & Institute of Museum and Library Services; Old Town Business & Professional Association; Old Town Music Society - Music in Old Town Fund, and Tacoma Creates.
#TacomaWA #TacomaKids #TacomaFamily #TacomaEvents #TacomaMusic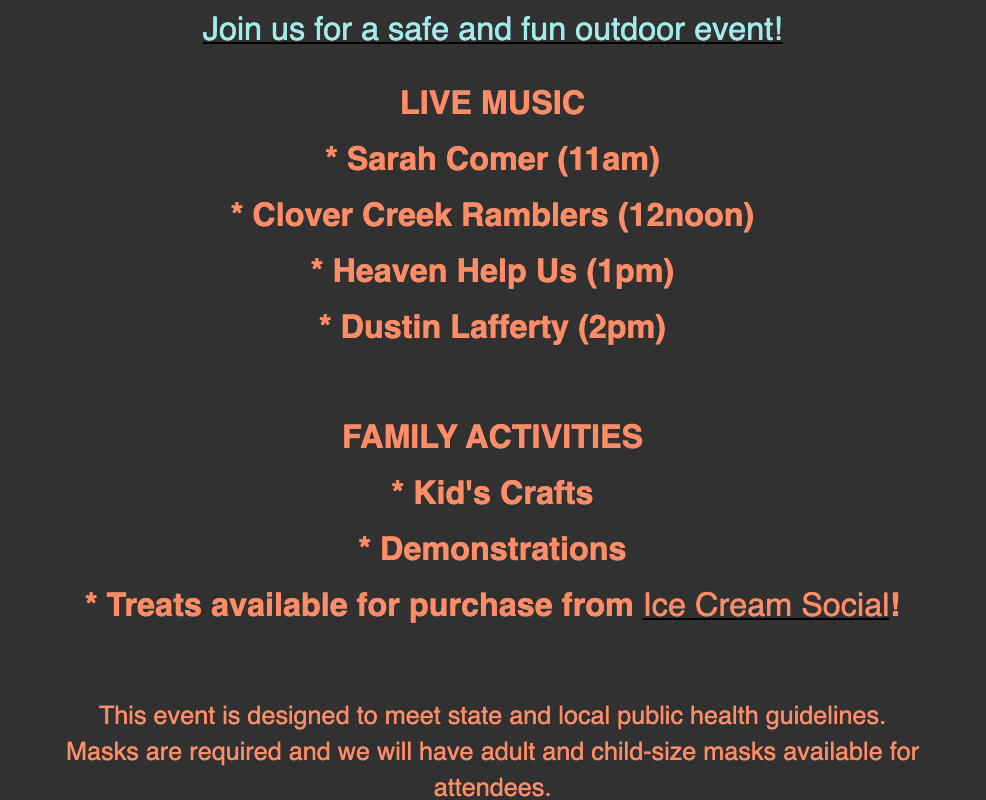 This event is designed to meet state and local public health guidelines.
Masks are required outdoors where physical distancing isn't possible. Free adult and child-size masks will be available for attendees.